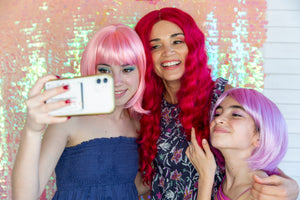 The Mini Sesh – $35
Want to create some glamorous memories with your bestie/ Mom/ drag daughter? We offer a discounted makeup rate for just lids, lips and lashes, with the purchase of a wig! Appointments happen during shop hours, so are not private, and must be reserved in advance.*Wig must be purchased the same day as your makeup appointment. Wigs are priced between $34-$120, depending on style.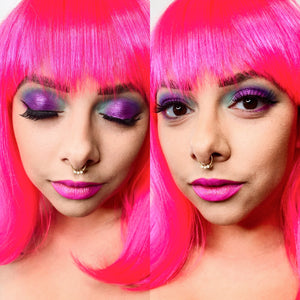 The Coco Quickie – $45
20-minute makeup appointment for the babe on the go! Just lips, lids and lashes! Guest should come with their foundation already good to go. (Includes false lashes)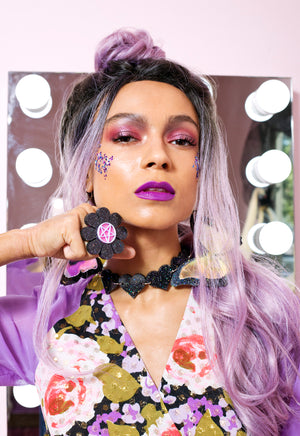 The Glam - $85
A 45 minute full-face makeup appointment, including lashes. Please specify at the time of your reservation if you'd like to add jewels (+$10-$15), or have inspo pics!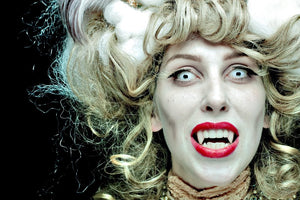 The Fantasy – $100-150
60-90 minute theatrical makeup appointment – elaborate face painting, full drag, gore / prosthetic looks; we love to bring your fantasy (or nightmare) to life!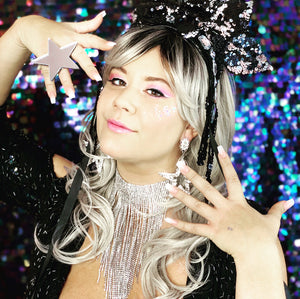 MoreGlaMore - $185
The Glam makeup appointment PLUS mini photo shoot! Come experience the opulent adornment of our in house stylists; we'll help you select a fanciful wig and/or showstopping headdress, then put you through wardrobe, and accessorize you to the nines for an in house glamour shoot! Fun for an individual, or book with your bestie to immortalize your friendship in sparkle (we can add a second appt. for an additional guest for $100).
Single person sessions last 1 hour + 45 minutes, and duos should plan for 2 hours. All styling adornments (wig, wardrobe, sparkle) will be returned to us after your shoot. We take pics using our pro lights and fancy iPhone, but if you'd like to book a professional portrait photographer, we can set that up for an additional charge. Photos are retouched and delivered within one week of your shoot.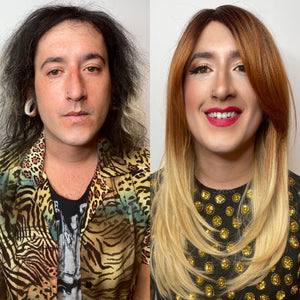 The M2F - $100
For AMAB (assigned male at birth) guests who wish to present as women. This appointment is for a natural feminine makeup look. Plan to arrive early if you'd like to shop for a new wig before your appointment! If you'd like to take advantage of our styling services (we'll dress + wig you and take photos), we recommend booking the M2F Transformation (listed below). *Please note this is for a natural feminine look; if you'd prefer a more exaggerated femininity in the style of drag, you'll want to make an appointment for The Fantasy.
M2F Transformation - $185
An M2F makeup appointment, plus a styling session complete with wardrobe, wig, and accessories! Come play dress up with our Glamour Squad and enjoy a mini photo shoot! Photos are edited and delivered discreetly within one week of your appointment. Wig, clothing and accessories will be returned to us after your shoot, unless you'd like to purchase items to take home. Please note: we do not provide shoes or undergarments. Photos are from the hip up, so your feet won't be visible, but you're welcome to bring shoes from home, if they help you feel more femme in your pics! This session lasts about an hour and 45 minutes, and includes 1 outfit. If you'd like to add additional outfits and wigs, we can accommodate you for $30 per look, but please mention ahead when booking.
M2F Stylist - sliding scale
We offer full service wardrobe styling for guests who are looking to transition their closet! We'll meet with you to determine your accurate women's sizes, your personal style and your ultimate clothing goals, then help you create a wardrobe that feels authentically YOU. An initial virtual or in-person consultation should be scheduled at least 1 week prior to the date of your private wardrobe fitting.
The Skillz - $120
Looking to add some new techniques to your skill set? This appointment is for one-on-one instruction for a specific technique you'd like to learn. For example: smoky eye, brow- blocking, cut crease, cat eye, highlight and contour; you name which technique you'd like to focus on, and we'll cater this mini class to your needs! You'll receive a $30 credit towards the purchase of any makeup used during your tutorial so you can practice your new techniques at home.
The Skillz: Full Face - $200
Are you new to the wonders of makeup and seeking some one-on-one instruction to get you started? This appointment will cover all the bases, from start to finish and includes a $50 credit towards the purchase of any makeup used during your tutorial so that you can practice at home!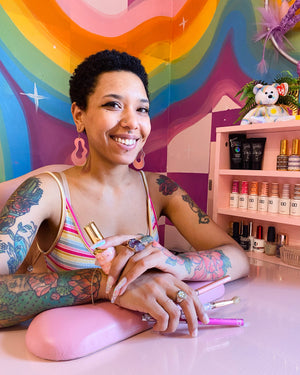 Manicures + Custom Nail Art
The newest offering on our menu! Sadé Lawson, best known for her stunning mural work around town is also talented in working her magic on much smaller canvases: your nails!  We're over the rainbow to now offer manicures + specialty hand-painted nail art out of our studio! Visit https://www.sadelawsonstudio.com/ to book directly.
Monthly Transgender Makeup Workshop - by donation
We offer by donation virtual group makeup workshops for those who are transitioning, have transitioned, or are gender non-binary and are interested in learning more about makeup in a safe and supportive environment. We send out email invitations to folx who have expressed interest in the past, or have already attended events. Get in touch if you'd like to be added to our list!
*All appointments require a deposit at booking. This deposit is applied to the final balance. Refunds are given to cancellations if 48 hours notice is given. By appointment only.
For an appointment at our Austin location: